Ad blocker interference detected!
Wikia is a free-to-use site that makes money from advertising. We have a modified experience for viewers using ad blockers

Wikia is not accessible if you've made further modifications. Remove the custom ad blocker rule(s) and the page will load as expected.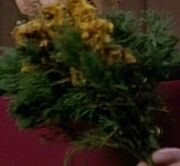 Zan Periculi (or "Pericule[s]") was a species of flowering plant native to Lappa IV, a Ferengi planet. It produced bunches of yellow blossoms.
DaiMon Tog presented a bouquet of pericules to Lwaxana Troi while attempting to court her in 2366. Lwaxana tossed them into a nearby pond. Following Tog's abduction of Lwaxana, Deanna Troi and William T. Riker, Lieutenant Foley discovered the bouquet, which allowed Data to identify its origin and therefore the identity of the abductor. (TNG: "Ménage à Troi")
External link
Edit