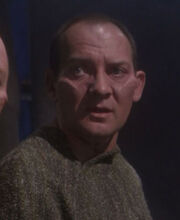 Zach Grenier (born 12 February 1954; age 62) is the actor who played Renth in the Star Trek: Enterprise episode "The Catwalk".
Among the other television series on which he has made guest appearances include The Equalizer (starring Robert Lansing and Keith Szarabajka), Law & Order, NYPD Blue (with Gordon Clapp and John Fleck), The Practice (with Bruce Davison), Without a Trace (also with Bruce Davison), The Guardian (starring Raphael Sbarge), Crossing Jordan (with Denise Crosby, Miguel Ferrer, and Eric Pierpoint), and Boston Legal (with William Shatner, Rene Auberjonois, Michael Ensign, Henry Gibson, and Matthew Kaminsky). He also had recurring roles on the series 24, with Penny Johnson; Deadwood, co-starring Jim Beaver, Brad Dourif, Paula Malcomson, Leon Rippy, and Alice Krige; and The Nine, co-starring John Billingsley.
He also has a number of films to his credit. Among his most notable are Oliver Stone's Talk Radio, the 1991 thriller Liebestraum (co-starring Thomas Kopache and Catherine Hicks), the 1992 action film Cliffhanger (with Paul Winfield and Bruce McGill), Mel Gibson's 1993 drama The Man Without a Face (with Star Trek: Voyager star Ethan Phillips), the 1996 blockbuster Twister (with Alan Ruck), the 1997 crime drama Donnie Brasco, Ang Lee's Ride with the Devil (with Michael Owen), and the acclaimed Fight Club (with David Andrews, Tim DeZarn, and Matt Winston). His upcoming films include Rescue Dawn, co-starring fellow Enterprise guest star Pat Healy.
External links