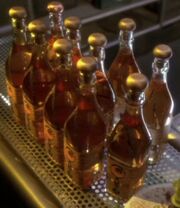 Yridian ale was an alcoholic beverage created by the Yridians.
In 2374, when it was believed that Morn had died in an ion storm, Quark sold Yridian ale to the attendants of his funeral, telling them it was "Morn's favorite", as it was Lurian tradition to give food and drinks to the deceased to sustain them in the afterlife. (DS9: "Who Mourns for Morn?")
Ad blocker interference detected!
Wikia is a free-to-use site that makes money from advertising. We have a modified experience for viewers using ad blockers

Wikia is not accessible if you've made further modifications. Remove the custom ad blocker rule(s) and the page will load as expected.