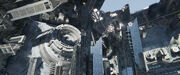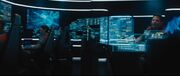 Yorktown Headquarters was the command and control center of the Federation starbase Yorktown in the alternate reality.
Contained within a cluster of skyscrapers, it was located near the station's central nexus, adjacent to the lake in Yorktown Central Plaza. Atop the Headquarters was Yorktown's central atmospheric regulator, and behind it was a massive fan that distributed air throughout the base.
In 2263, Yorktown Headquarters was commanded by Commander Finnegan, who was present during the discovery of Kalara's escape pod and the attack on Yorktown by Krall's forces. (Star Trek Beyond)
Ad blocker interference detected!
Wikia is a free-to-use site that makes money from advertising. We have a modified experience for viewers using ad blockers

Wikia is not accessible if you've made further modifications. Remove the custom ad blocker rule(s) and the page will load as expected.