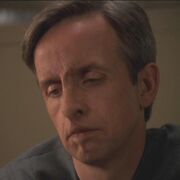 Yerid was a member of Criminal Investigations on Quarra. He began an investigation of two missing employees whom he suspected were kidnapped by Amal Kotay, Chakotay's assumed identity.
Chatokay told Yerid about the kidnapped crew of USS Voyager, which Yerid at first did not believe. Seven of Nine also contacted him and expressed her concerns that more than a hundred employees started work on the same day, and most were the same species. Yerid informed her that he had been relieved of duty, but he did not stop his investigation. He contacted Kathryn Janeway, and eventually formed an alliance with her, Jaffen, Seven and Tom Paris to get to the bottom of the conspiracy. He helped Seven free Chakotay and Tuvok.
Neelix and The Doctor were able to beam the crew aboard, and Yerid promised Janeway all the forced workers would be freed and repatriated. (VOY: "Workforce, Part II")
Ad blocker interference detected!
Wikia is a free-to-use site that makes money from advertising. We have a modified experience for viewers using ad blockers

Wikia is not accessible if you've made further modifications. Remove the custom ad blocker rule(s) and the page will load as expected.