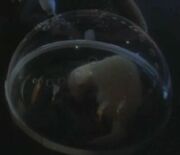 A wompat was an animal native to Cardassia Prime that was often kept as a pet. Once separated from their mothers, they depended on their owners to care for them.
Jil Orra, Gul Madred's daughter, kept a pet wompat. She would take it with her when she went to visit her father at work. (TNG: "Chain of Command, Part II")
This wompat was portrayed by a ferret.
Ad blocker interference detected!
Wikia is a free-to-use site that makes money from advertising. We have a modified experience for viewers using ad blockers

Wikia is not accessible if you've made further modifications. Remove the custom ad blocker rule(s) and the page will load as expected.