WizKids, Inc. is a Seattle, Washington-based game company primarily known for its production of the "Clix" series of "collectible miniatures games" (CMGs) which include HeroClix, Mage Knight, MechWarrior, and HorrorClix. The company was founded in 2000 by Jordan Weisman, a veteran of the game company FASA.
The company was acquired by NECA in 2009 and began to release licensed Star Trek games in 2011.
Releases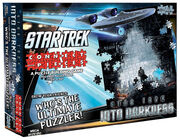 The company has released three Star Trek-related board games and plans to release a fourth:
WizKids also released a Star Trek Into Darkness Connect With Pieces Puzzle Building Game in 2013.
See also
External links