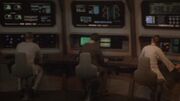 Winnie McCarthy (11 July 1930 – 20 April 1986; age 55) was an actress who appeared as an Unnamed Epsilon IX technician in Star Trek: The Motion Picture. She received no credit for her appearance. Her uniform shirt was sold off on the It's A Wrap! sale and auction on eBay. [1]
During her brief career in films and television, McCarthy appeared in background roles in The Fall Guy, Trapper John M.D., and the 1983 comedy To Be or Not to Be (co-starring Christopher Lloyd).
External link
Edit
Ad blocker interference detected!
Wikia is a free-to-use site that makes money from advertising. We have a modified experience for viewers using ad blockers

Wikia is not accessible if you've made further modifications. Remove the custom ad blocker rule(s) and the page will load as expected.