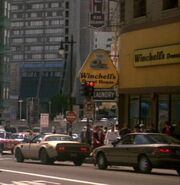 Winchell's Donut House was a coffee and dessert establishment located on the corner of Kearny Avenue and Columbus Avenue in San Francisco, during the late 20th century.
While visiting the year 1986, crewmembers of the HMS Bounty crossed the street in front of Winchell's Donut House. (Star Trek IV: The Voyage Home)
Winchell's is an actual franchise of donut shops. Their web site can be seen here.. However, this specific donut shop does not exist anymore.