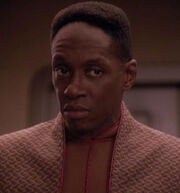 William Thomas, Jr. is the actor who played Santos in the Star Trek: The Next Generation seventh season episode "Preemptive Strike" in 1994.
Thomas, Jr. was born in Columbus, Ohio, USA and is known for his recurring role as Dabnis Brickey in five episodes of the comedy series The Cosby Show (1991-1992).
Film work includes the television family musical Polly (1989, with Brock Peters), the drama Mambo Kings (1992, with Jonathan del Arco), the fantasy comedy Bruce Almighty (2003, with Mark Kiely, Christopher Darga, Max Grodénchik, Dan Desmond, Robert Curtis Brown, and Jamison Yang), and the television drama Life on Liberty Street (2004, with Bruce Thomas, Brett Cullen and Ed Begley, Jr.).
In 2005 he had a guest role in an episode of Gilmore Girls with William Morgan Sheppard and Gregg Henry as well as a recurring role as INS Agent Philip Dunn in the daily soap The Bold and the Beautiful.
External links
Edit