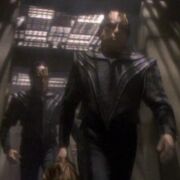 William Powell-Blair, born in Richmond, Virgina, has only one appearance in Star Trek. He played a Cardassian officer in the Star Trek: Deep Space Nine pilot episode "Emissary".
Powell-Blair appeared on a 1980 episode of Growing Pains; other Trek actors to appear on the series are Andrew Koenig (son of Walter Koenig), who was a semi-regular, Christine Rose (1991), Gregory Sierra (1989), Hallie Todd (1986) and Olivia d'Abo (1985 and 1986). Powell-Blair also appeared on a 1992 episode of Reasonable Doubts; other Trek actors to appear on the show are Benito Martinez (1992), Meg Foster (1992) and Jeri Ryan (1991).
External link
Edit
Ad blocker interference detected!
Wikia is a free-to-use site that makes money from advertising. We have a modified experience for viewers using ad blockers

Wikia is not accessible if you've made further modifications. Remove the custom ad blocker rule(s) and the page will load as expected.