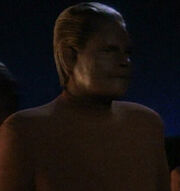 William Frankfather (4 August 1944 – 28 December 1998; age 54) was an actor born in Kermit, Texas. He played the Male Changeling in the Star Trek: Deep Space Nine episodes "The Search, Part I" and "The Search, Part II" though he only received credit for the second part.
In an interesting trivia note, Frankfather starred in the popular movie Death Becomes Her and an episode of Wings called "Death Becomes Him". Frankfather also appeared in the films Pennies from Heaven, Mousehunt, Flashpoint, Foul Play, The Rocketeer, Harry and the Hendersons and When a Man Loves a Woman.
External links
Edit
Ad blocker interference detected!
Wikia is a free-to-use site that makes money from advertising. We have a modified experience for viewers using ad blockers

Wikia is not accessible if you've made further modifications. Remove the custom ad blocker rule(s) and the page will load as expected.