Wilhelm Gottsreich Sigismond von Ormstein
Discuss

1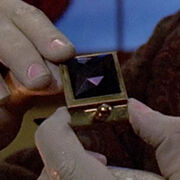 Wilhelm Gottsreich Sigismond von Ormstein was a fictional character from the Sherlock Holmes stories.
The Sherlock Holmes holoprogram included von Ormstein's snuff box, placed on the mantelpiece in Sherlock Holmes' apartment. (TNG: "Elementary, Dear Data")
The character was from the story A Scandal in Bohemia, where he was the king of Bohemia. This story was also referenced in the episode, and a picture of the king was even shown, but the connection to von Ormstein was not made.