The Ancient West, or the Old West, described the period of 19th-century Earth when the American West was being settled. This period in Earth's history would be romanticized in Earth literature and popular culture for centuries, most frequently in stories known as Westerns. (TOS: "Spectre of the Gun"; TNG: "A Fistful of Datas"; DS9: "Paradise"; ENT: "North Star")
In 2153, Enterprise NX-01 discovered a Human and Skagaran settlement on a planet in the Delphic Expanse that resembled the towns of Earth's Ancient West. It was noted by Charles Tucker that the resemblance was accurate down to the spittoons. (ENT: "North Star")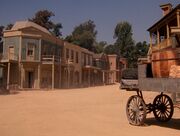 In 2268, the Melkot trapped James T. Kirk and his landing party in an incomplete re-creation of the town of Tombstone, Arizona, where Kirk and crew were to be executed in a reenactment of the infamous gunfight at OK Corral. (TOS: "Spectre of the Gun")
In 2369, Worf, his son, Alexander Rozhenko, and Deanna Troi participated in a holodeck adventure set during the Ancient West in the town of Deadwood, South Dakota. The program was designed by Alexander, with help from Reginald Barclay. Troi, Worf, and Alexander played this program when an experiment being conducted by Geordi La Forge and Data went awry and influenced the program, giving the main characters Data's physical characteristics and removing the holodeck safety protocols, making the 19th-century firearms deadly. (TNG: "A Fistful of Datas")
Ian Andrew Troi told Deanna Troi numerous stories about the Ancient West. (TNG: "A Fistful of Datas")
The term "Wild West", which was commonly associated with this period, has yet to be said in an episode or film.
External link
Edit
Ad blocker interference detected!
Wikia is a free-to-use site that makes money from advertising. We have a modified experience for viewers using ad blockers

Wikia is not accessible if you've made further modifications. Remove the custom ad blocker rule(s) and the page will load as expected.