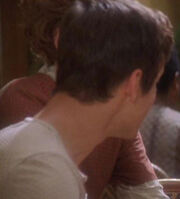 Whitney Hall is an actress who played a Risian waitress in the Star Trek: Enterprise first season episode "Two Days and Two Nights" in 2002. As a background actress she received no credit for her performance and was identified by the name tag of her costume which was sold off on the It's A Wrap! sale and auction on eBay. [1]
Hall performed in the 1979 television movie Jennifer: A Woman's Story alongside Kate Mulgrew, Robin Gammell, and Momo Yashima. She served as stand-in on the comedy High School High (1996, with Louise Fletcher, John Neville, Marco Rodriguez, Nicholas Worth, and Rachelle Roderick) and stood-in for Shirley MacLaine on the television drama The West Side Waltz (1995, with Camille Saviola and Rick Fitts), on the television comedy These Old Broads (2001, with Joan Collins), on the comedy Carolina (2003), on the comedy In Her Shoes (2005), Rumor Has It (2005), and on the comedy Valentine's Day (2010), Hall also served as stand-in for Lynn Redgrave, Lily Tomlin, and several other actresses. [2]
External links
Edit
Ad blocker interference detected!
Wikia is a free-to-use site that makes money from advertising. We have a modified experience for viewers using ad blockers

Wikia is not accessible if you've made further modifications. Remove the custom ad blocker rule(s) and the page will load as expected.