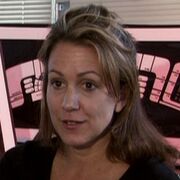 Wendy Drapanas is a scenic artist who worked on Star Trek: The Next Generation, Star Trek: Voyager, and Star Trek: Enterprise. She was also a scenic art supervisor for Star Trek Nemesis. In addition, she worked as scenic artist on the 1996 video game Star Trek: Borg.
Her name appeared on the USS Voyager dedication plaque, listed under Science Ops.
Following her work on Star Trek, Drapanas was a graphic designer on the comedy sequel Legally Blonde 2: Red, White & Blonde (2003), the comedy Monster-in-Law (2005), thr crime drama Domino (2005), the family movie The Santa Clause 3: The Escape Clause (2006), and the crime drama 3:10 to Yuma (2007). More recently, she worked as art director on the adventure movie To Have and to Hold (2012).
Star Trek credits Edit
External link
Edit
Ad blocker interference detected!
Wikia is a free-to-use site that makes money from advertising. We have a modified experience for viewers using ad blockers

Wikia is not accessible if you've made further modifications. Remove the custom ad blocker rule(s) and the page will load as expected.