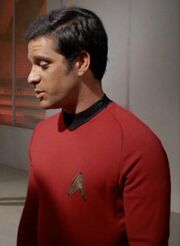 Watson was a Starfleet engineer serving on board the USS Enterprise under Lieutenant Commander Montgomery Scott during the late 2260s.
Watson gave Dohlman Elaan and her guards a tour of the Enterprise's engineering section, while they were visiting the ship in 2268. Watson was later performing his engineering rounds when he discovered Kryton attempting to blow up the warp drive; Kryton killed him by breaking his neck. (TOS: "Elaan of Troyius")
Watson was played by Victor Brandt. He was cast in the part thanks to John Meredyth Lucas, who had directed Brandt in an episode of
The Invaders
in which he had performed a scene featuring the death of his character therein. "
He called me up,
" the actor recalled, "
and said, 'I've got another death scene for you.'
" Brandt then portrayed Watson. One aspect of his performance that stuck in his mind was that he "had to remember all this technical crap about the working of the ship." [1]