The Warner Bros. backlot is part of the Warner Bros. Entertainment production company, located in Burbank, California, and features dozens of exterior sets used for film and television productions.
Jungle/Lagoon & Roadhouse set
Edit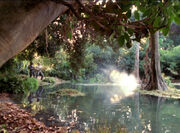 In 2000 the production of Star Trek: Voyager filmed several jungle scenes of the Hirogen training facility for the episode "Flesh and Blood" at the "Jungle/Lagoon & Roadhouse set". Lisa White served as location scout for this shooting. Among the actors who filmed their scenes on 30 August 2000 and 31 August 2000 are Spencer Garrett, Todd Jeffries, Chad Halyard, Shanta Payne, Jeff Clark, and Redondo Philip.
The call sheets feature the notes "Rain or Shine" and "Be prepared for summer weather, bugs, bees and other natural occurances". Ian Henrich worked as set first aid on these days.
External link
Edit