Ad blocker interference detected!
Wikia is a free-to-use site that makes money from advertising. We have a modified experience for viewers using ad blockers

Wikia is not accessible if you've made further modifications. Remove the custom ad blocker rule(s) and the page will load as expected.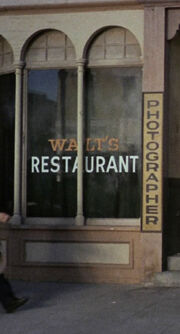 Walt's Restaurant was a restaurant located in New York City, that was in operation in 1930. It was located not far from the Twenty-First Street Mission.
James T. Kirk and Spock appeared out of thin air, after passing through the Guardian of Forever, in front of Walt's Restaurant. (TOS: "The City on the Edge of Forever")