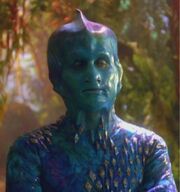 Wallace Langham (born 11 March 1965; age 52) is the actor who played Flotter in the episode "Once Upon a Time" in Star Trek: Voyager.
Langham is perhaps best known for his portrayals of Phil on The Larry Sanders Show with Megan Gallagher, Penny Johnson and Scott Thompson, as the sexually ambiguous Josh Blair on the TV series Veronica's Closet, (which co-starred Kirstie Alley and Christopher McDonald), and for his role as lab analyst and chronic suck-up David Hodges on the hit series CSI: Crime Scene Investigation (along with Liz Vassey and Conor O'Farrell) who has a cat named Kobayashi Maru; the CSI episode "A Space Oddity," written by Naren Shankar, spoofed Star Trek and also featured Kate Vernon and Ronald D. Moore. He was finally made a regular in the eighth season. He also made an appearance on the sitcom What About Joan with Donna Murphy.
External links
Edit
Ad blocker interference detected!
Wikia is a free-to-use site that makes money from advertising. We have a modified experience for viewers using ad blockers

Wikia is not accessible if you've made further modifications. Remove the custom ad blocker rule(s) and the page will load as expected.