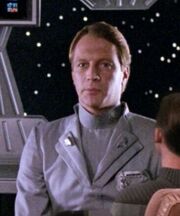 Wagnor was an Angosian pilot who was up for transporting Roga Danar, an altered humanoid who was the perfect soldier, back to an internment camp on the moon penal colony Lunar V.
Wagnor was overpowered by Danar and his ship was used to attack the camp and free the other imprisoned soldiers. (TNG: "The Hunted")
Wagnor was played by Andrew Bicknell.
His name comes from the end credits of the episode and the script.