Ad blocker interference detected!
Wikia is a free-to-use site that makes money from advertising. We have a modified experience for viewers using ad blockers

Wikia is not accessible if you've made further modifications. Remove the custom ad blocker rule(s) and the page will load as expected.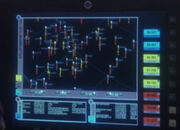 The Vulcan star charts were a collection of star charts, and all pertinent information about the star systems visited by Vulcan ships.
In 2151, the Vulcans allowed the crew of the Earth Starfleet vessel Enterprise NX-01 to use the star charts to return Klaang to the Klingon homeworld of Qo'noS. In exchange, however, Enterprise was to have a Vulcan liaison in the form of Sub-Commander T'Pol accompany them on their mission. (ENT: "Broken Bow")
Later that year, Trip Tucker told Jonathan Archer that having access to the Vulcan star charts took "all the fun" out of being explorers, stating "where's the exploration in going places people have already been?" Archer, however, noted that it was a useful tool because they were all places that Earth Starfleet had not been. He also added that they may not have been as complete as the Vulcans led them to believe, after finding that a protostar they discovered the week prior was not on the charts. The Enterprise's later visit to P'Jem was based on the discovery of the planet in the star charts. (ENT: "The Andorian Incident")