Ad blocker interference detected!
Wikia is a free-to-use site that makes money from advertising. We have a modified experience for viewers using ad blockers

Wikia is not accessible if you've made further modifications. Remove the custom ad blocker rule(s) and the page will load as expected.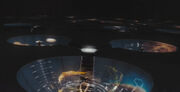 The Vulcan Learning Center was an educational site. There, Vulcan children stood in skill domes that displayed information, and would answer automated questions.
It was the site of the thirty-fifth attempt by a group of bullies to elicit an emotional response from Spock. When the bullies succeeded, Spock pushed one of them into a learning pit and physically assaulted him. (Star Trek)
A learning pit was constructed as a set against a greenscreen backdrop. (Star Trek gag reel)