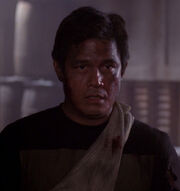 Vladimir Velasco is the actor who portrayed Tan Tsu in the Star Trek: The Next Generation fourth season episode "Legacy" in 1990.
Velasco received his BFA in Theater in 1972 from the University of Montana in Missoula, Montana and graduated in drama from the University of Hawaii in 1973. He studied acting and dance under coaches such as Sonia Moore, Sally Whalen, and Tom Todoroff.
Velasco's other television credits include episodes of Tales of the Gold Monkey (1982, with Stephen Collins, Marta DuBois, Cliff Potts, and Barrie Ingham), Bring 'Em Back Alive (1983, with Clyde Kusatsu), Simon & Simon (1984, with Mary Carver and Michael Keenan), and JAG (2003, with Zoe McLellan, Keone Young, and Gelbert Coloma). Further television work includes Family Medical Center, The Young and the Restless, Santa Barbara, Masquerade, The Fall Guy, and The Hardy Boys/ Nancy Drew Mysteries.
His film credits include the short films Unspoken (2007), Unrest (2010), and 11 24 (2011), and the drama The Master (2013, with Zachary Culbertson).
External links
Edit