The Vitruvian Man was a drawing done by the Human Leonardo da Vinci in the late 15th century in Europe on Earth.
After Jonathan Archer restored a damaged timeline, the Vitruvian Man could be seen in the time stream as the timeline realigned itself. (ENT: "Storm Front, Part II")
Appendices
Edit
Apocrypha
Edit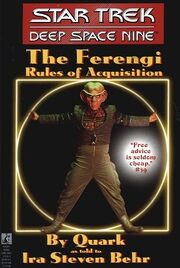 The cover of The Ferengi Rules of Acquisition features a reference to the Vetruvian Man, replacing the man with an image of Quark.
External link
Edit