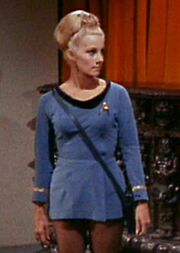 Virginia Aldridge (born 1 September 1938; age 78) is the former actress who appeared as Lieutenant Karen Tracy in "Wolf in the Fold", a second season episode of Star Trek: The Original Series. This was her last known television appearance. She filmed her scenes on Thursday 29 June 1967 at Desilu Stage 10.
Aldridge had previously appeared on the television Westerns Cheyenne, Wagon Train, and The Rifleman, the latter of which featured Paul Fix and Bill Quinn as cast members. She also had supporting roles in the 1959 films High School Big Shot (co-starring Stanley Adams) and Riot in Juvenile Prison (with John Hoyt). Aldridge can also be seen in the classic 1967 family film The Gnome-Mobile along with Hal Baylor.
Aldridge went on to become a writer for such popular series as Dallas, Fame, Knight Rider, and Beauty and the Beast.
External link
Edit
Ad blocker interference detected!
Wikia is a free-to-use site that makes money from advertising. We have a modified experience for viewers using ad blockers

Wikia is not accessible if you've made further modifications. Remove the custom ad blocker rule(s) and the page will load as expected.