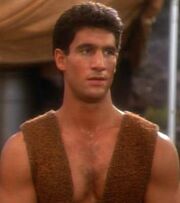 Vinod was the son of Alixus, a fanatical philosopher who intentionally stranded a colony of people in order to teach them the evils of technology. He and Alixus left the colony with Benjamin Sisko and Miles O'Brien to answer for their crimes. (DS9: "Paradise")
Vinod was played by Michael Buchman Silver.

In their book The Stargate Conspiracy

, Lynn Picknett and Clive Prince comment that Vinod may have been named for the Indian mystic D.G. Vinod. [1]