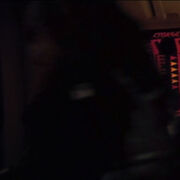 Vincent DeMaio appeared in at least two episodes of Star Trek: The Next Generation as a featured background actor. He portrayed a Klingon engineer in the fourth season episode "Redemption" and a Starfleet officer in another episode. DeMaio filmed his scene for "Redemption" on 16 April 1991 on Paramount Stage 9 and his costume from his second appearance was sold off on the It's A Wrap! sale and auction on eBay where he is listed as V. DeMaio. [1]
DeMaio worked in the sound department for the video release Godsmack Live (2002) and for the documentary television series Great Performances (2002-2006). He also worked in the production staff for the television special Saturday Night Live Weekend Update Halftime Special (2003) and for the music special Live by Request: Hall & Oates (2003) and as camera operator for the Taps episode "Alcatraz" (2010). In 2008 DeMaio was part of the camera department crew which earned an Emmy Award nomination for Outstanding Technical Direction, Camerawork, Video for a Series for an episode of Late Night with Conan O'Brien.
External link
Edit
Ad blocker interference detected!
Wikia is a free-to-use site that makes money from advertising. We have a modified experience for viewers using ad blockers

Wikia is not accessible if you've made further modifications. Remove the custom ad blocker rule(s) and the page will load as expected.