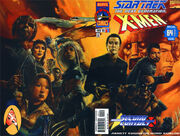 Vince Evans is a comic book artist specializing in cover art.
He broke into the industry in the early 1990s as an inker for Marvel Comics where he worked on a variety of titles including The Punisher, X-Men, Fantastic Four, and Savage Sword of Conan.
In 1998, he contributed an alternate wraparound cover for "Second Contact". Earlier that year, he contributed the cover art for "An Infinite Jest".
External link
Edit
Ad blocker interference detected!
Wikia is a free-to-use site that makes money from advertising. We have a modified experience for viewers using ad blockers

Wikia is not accessible if you've made further modifications. Remove the custom ad blocker rule(s) and the page will load as expected.