Ad blocker interference detected!
Wikia is a free-to-use site that makes money from advertising. We have a modified experience for viewers using ad blockers

Wikia is not accessible if you've made further modifications. Remove the custom ad blocker rule(s) and the page will load as expected.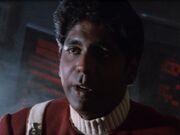 Former international tennis star-turned-actor Vijay Amritraj (born 14 December 1953; age 62) portrayed Captain Joel Randolph in Star Trek IV: The Voyage Home.
Amritraj was originally an Indian tennis pro, best known to screen audiences for his appearance as Vijay in the 1983 James Bond film Octopussy (with Steven Berkoff). He starred in the short-lived 1980s comedy series The Last Precinct (with James Cromwell).
External link
Edit