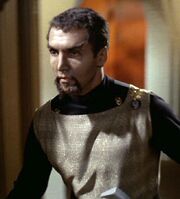 Victor "Vic" Lundin is a former opera singer and actor, who appeared in numerous roles during the 1960s. Lundin's most notable role was the character of Friday in the 1964 film, Robinson Crusoe on Mars.
Star Trek fans also remember Lundin in the role of a Klingon lieutenant in the episode TOS: "Errand of Mercy" where his character returns Spock to Kor's office following a level 4 mind scan. Kor addresses Lundin's Klingon character by rank; as lieutenant. Lundin can also be seen in the same episode reporting the escape of Kirk and Spock to Kor. Victor later appears in the scene where his Klingon character is choked by Kirk with a belt cord; followed by an incapacitating neck pinch administered by Spock.
After a long break in his acting career, Victor has recently revived it with several movie roles. He appeared in mostly direct-to-video productions, including The Theory of Everything (2006) and vampire movie Revamped (2007).
Lundin has also attended numerous Star Trek conventions.
Appearances
External links