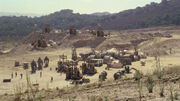 Ventura County is a county in the California central coast area. Simi Valley is located within Ventura County.
Between 26 August 2002 and 30 August 2002 a rock quarry in this area was used as filming location for the Star Trek: Enterprise second season episode "Marauders". The location was used to portray the surface of an alien planet. The construction and art department created a "village"-like colony with several Quonset huts.
Actors Scott Bakula, Connor Trinneer, Dominic Keating, Anthony Montgomery, and Jolene Blalock and guest actors Larry Cedar, Bari Hochwald, Steven Flynn, Jesse James Rutherford, and Robertson Dean filmed their scenes. Beside several background performers, Stunt Coordinator Vince Deadrick, Jr. coordinated a team of seven stunt performers. [1](X)
External link
Edit
Ad blocker interference detected!
Wikia is a free-to-use site that makes money from advertising. We have a modified experience for viewers using ad blockers

Wikia is not accessible if you've made further modifications. Remove the custom ad blocker rule(s) and the page will load as expected.