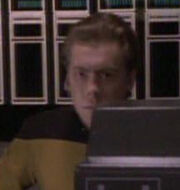 Vaun Wilmott is the actor, screenwriter, and author who played the Bajoran security officer in the Star Trek: The Next Generation sixth season episode "Descent". Wilmott filmed his scenes on Wednesday 21 April 1993 on Paramount Stage 9.
He attended the University of California in Santa Barbara between 1987 and 1991 and is currently the owner of the production company Arete Films, Inc. [1]
In 1994, Wilmott appeared in the Beverly Hills, 90210 episode "Blind Spot", which also featured Cress Williams and Todd Bryant.
Wilmott is a screenwriter who worked for Sony, Beacon, Paramount Pictures and others in a number of different genres. In 2010, he wrote the story for the Sons of Anarchy episode "Fírinne". This episode featured fellow Star Trek alumni William Lucking, Paula Malcomson, Ron Perlman, Titus Welliver, Bart McCarthy, Paul Collins, and Tara Macken. Wilmott also wrote the fantasy novel "The Outcast" in 2007. [2]
More recently, Wilmott wrote the script for the SyFy fantasy television pilot Dominion, based on the 2010 fantasy film Legion. Wilmott is also working as Co-Executive Producer on this project which has Alan Dale in its cast. [3]
External links
Edit
Ad blocker interference detected!
Wikia is a free-to-use site that makes money from advertising. We have a modified experience for viewers using ad blockers

Wikia is not accessible if you've made further modifications. Remove the custom ad blocker rule(s) and the page will load as expected.