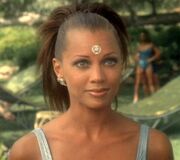 Vanessa L. Williams (born 18 March 1963; age 53) is a singer and actress from the Bronx, New York. She became the first African-American woman to become Miss America in 1984, but resigned later that year.
She portrayed Arandis in the Star Trek: Deep Space Nine episode "Let He Who Is Without Sin...".
In 1998, Williams played Ruby Sinclair in the dance drama Dance with Me, opposite Chayanne. The film also featured Trek alumni Harry Groener, Mike Gomez, and Michael McAdam.
Williams has recently been starring in the hit show Ugly Betty with fellow DS9 guest star Tony Plana and Star Trek Nemesis actor Alan Dale. She has been nominated for an 2007 Emmy Award for Outstanding Supporting Actress In A Comedy Series for her role as Wilhelmina Slater. She currently stars alongside Terry O'Quinn in 666 Park Avenue.
External links