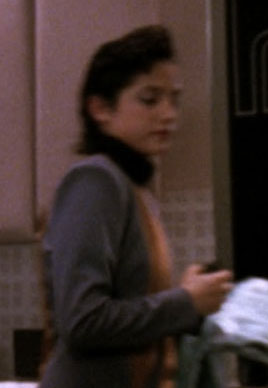 Vanessa Grayson is an actress who worked as stand-in for Marina Sirtis on Star Trek: Insurrection and Star Trek Nemesis. She previously appeared as a beauty attendant in the Star Trek: The Next Generation fourth season episode "The Host" in 1991 and also portrayed a dabo girl in episodes of Star Trek: Deep Space Nine. Grayson filmed her scene for "The Host" on Friday 15 March 1991 on Paramount Stage 9.
As an actress she appeared in the film Blow (2001, with Miguel Perez, Tony Amendola, John Harrington Bland, and stunts by Brian Avery, Joni Avery, Rick Avery, and Anita Hart).
She stood-in for actresses such as Tia Carrere (1993 in Rising Sun), Julianna Margulies (in ER and 2001 in The Man from Elysian Fields), Melinda Clarke (1997-1998 in Soldiers of Fortune, Inc.), Rachel Griffiths (2006-2007 in Brothers & Sisters), Sean Young (2000 in The Amati Girls), Jennifer Lopez (1995 in Money Train, 1997 in Anaconda, 2002 in Enough, and 2003 in Gigli), Clea Duvall (2003 in Carnivale), Catherine Zeta Jones (1999 in The Haunting), Penelope Cruz (2001 in Captain Correlli's Mandolin and Vanilla Sky), Gina Gershon (1998 in Legalese), and Carrie Ann Moss (2007 in Disturbia).
More recently in 2011, Grayson worked on the television series Southland.
External link
Edit
Ad blocker interference detected!
Wikia is a free-to-use site that makes money from advertising. We have a modified experience for viewers using ad blockers

Wikia is not accessible if you've made further modifications. Remove the custom ad blocker rule(s) and the page will load as expected.