Region 1 cover
DVD release
Series:
VOY
Season:
Two
No. of episodes:
26
No. of discs:
7
Region 1 release date:
18 May 2004
Region 2 release date:
5 July 2004
24 September 2007 (re-released)
Rating(s):
Reference:

ASIN B0001NBNFW

Year:
2371-2372

Region 2 cover

Region 2 slimline cover

Main menu
Star Trek: Voyager - Season Two is a DVD release containing all of the episodes which were broadcast during the series' second season. The DVD set includes special features and all episodes are presented in 5.1 Surround Sound format.
Episodes
| Disc | Episode |
| --- | --- |
| 1 | |
| 2 | |
| 3 | |
| 4 | |
| 5 | |
| 6 | |
| 7 | Special Features |
Special Features
Braving the Unknown: Season 2
Voyager Time Capsule: Tuvok

13 minutes about Tim Russ and his thoughts about the show and character.

Saboteur Extraordinaire: Seska
A Day in the Life of Ethan Phillips

A 7 minute piece showing him in makeup, on set, and otherwise.

Red Alert: Visual Effects Season 2

A 12 minute segment discussing the challenges of the constructed body in "Lifesigns", lighting effects, Kim's death in "Deadlock", the lizards in "Threshold", and the landing of the ship.

Real Science with André Bormanis

11 minutes discussing the real world "versions" of things such as robots, planetary rings, dark matter, and warp speed.

Photo Gallery
Lost Transmissions from the Delta Quadrant

About 14 minutes of easter eggs "hidden" throughout the special features menus.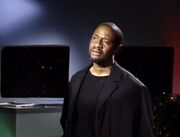 One of the easter eggs is Tim Russ performing the title track from his second album, Kushangaza, which is Swahili for "Amazing."

A Special Text Trivia Version of "The 37's"
Bonus DVD
Some DVD sets include a bonus disc with additional featurettes.