Recommended LayoutYou are currently viewing Memory Alpha without recommended changes to the standard layout. To apply these changes, please click on the following Apply link - to just get rid of this notice, click on Reject. In either case, click Save page on the page that follows.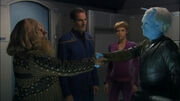 Welcome to Memory Alpha, Usenko!
I've noticed that you've already made some contributions to our database – thank you! We all hope that you'll enjoy our activities here and decide to join our
community
.
If you'd like to learn more about working with the nuts and bolts of Memory Alpha, I have a few links that you might want to check out:
One other suggestion: if you're going to make comments on talk pages or make other sorts of comments, please be sure to sign them with four tildes (~~~~) to paste in your user name and the date/time of the comment.
If you have any questions, please feel free to post them in our Ten Forward community page. Thanks, and once again, welcome to Memory Alpha!
Jaz talk 14:44, 2 May 2006 (UTC)
Fixed table
Edit
I tweaked your table on your user page a tiny bit - I hope you don't mind. Normally it's bad form to edit another's user page, but I thought that's what you were going for, and it was much easier to do it than explain it. :) -- Renegade54 05:07, 31 May 2006 (UTC)
Image insertion
Edit
The image markup instructions can be found at Help:Image markup. The basic image tag takes the form
[[File:imagename.ext|Caption text]]

where imagename.ext is the (previously uploaded) image name; types allowed are .png, .jpg, .gif, and I think, now, .svg. The images on the article pages typically have the "thumb" attribute added, and usually have "right" added as well, to position them on the right-hand side of the page, i.e.
[[File:imagename.ext|thumb|right|Caption text]]

To upload a file, go to Special:Upload (or click on the link in the toolbox menu to the left). To see what images are already available, either go to Special:Newimages or to Special:Allpages. Look at some of the existing pages for more examples, and play around with the different options. Good luck! -- Renegade54 13:00, 31 May 2006 (UTC)