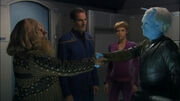 Welcome to Memory Alpha, UncertainError! I've noticed that you've already made some contributions to our database – thanks for your edit to the "Marijne VII" page! We all hope that you'll enjoy our activities here and decide to join our community.
If you'd like to learn more about working with the nuts and bolts of Memory Alpha, I have a few links that you might want to check out:
One other suggestion: if you're going to make comments on talk pages or make other sorts of comments, please be sure to sign them with four tildes (~~~~) to paste in your user name and the date/time of the comment.
If you have any questions, please feel free to post them in our Ten Forward community page. Thanks, and once again, welcome to Memory Alpha! 31dot (talk) 22:43, September 3, 2013 (UTC)
The above named user is the most currently available administrator to contribute to Memory Alpha; their signature was automatically added by User:Wikia. If you have any immediate questions or concerns, you may contact that user through their talk page.
Multiple Edits
Edit
Please make use of the Preview button when making edits. This allows you to see what your edit looks like before you save it, which reduces the load on the database and makes the Recent Changes page easier to read. Thanks. 31dot (talk) 23:06, September 13, 2014 (UTC)
Removing info by accident
Edit
Hey. When editing, please make sure you're not removing valid information like the film link on the Evora article or templates/links. Thanks. Tom (talk) 23:37, October 10, 2015 (UTC)
Article links
Edit
Hey. When creating an article, please make sure that it is linked from other articles and most important from the episodes/films it was referenced in. Thank you. Tom (talk) 18:28, October 17, 2015 (UTC)
Hi, UncertainError. Please learn to indent your comments in discussions properly. Each post should not have successively more and more colons at the start; if you begin with one colon before your text, keep all your posts in that particular discussion with one colon. If you start with two colons, please keep all your posts in that conversation with two colons, etc. --Defiant (talk) 21:58, October 9, 2016 (UTC)
250,000 ships?
Edit
What's the source for this? "As per Justin Lin" isn't enough... we need an actual reference. -- sulfur (talk) 01:13, October 10, 2016 (UTC)
Here is an article where Lin talks about it. -- UncertainError (talk) 02:12, October 10, 2016 (UTC)
Page moves
Edit
If you're going to move a page, with or without following the guideline, you're expected to cleanup the incoming links to that page, because we don't want links going through redirects without reason. - Archduk3 03:57, October 13, 2016 (UTC)
I knew where it belonged, but I must have been distracted. :) --LauraCC (talk) 14:51, October 19, 2016 (UTC)