Talk:Tim Thomason/The Archive of 2009
Star Trek XI edit
Edit
Thanks, but I actually already have an account on Memory Alpha, or at least I used to; I'm not sure if it got deleted or not since it's been a very long time since I posted anything. I just couldn't be bothered signing in. My handle is antodav. --98.240.12.77 19:28, 10 May 2009 (UTC)
Anti-time
Edit
Ah! Thanks for explaining! Kinda like that episode of LOST where Desmond is traveling back and forth through time.- JustPhil 23:33, 13 May 2009 (UTC)
Congratulations - JJ Abrams Interview Prize!
Edit
Hi Tim,
I'm on Wikia's entertainment team. I'd like to congratulate you on winning 13 limited edition Star Trek trading cards for your submitted question in the JJ Abrams interview! There were 7 prizes, so we picked 7 winners at random from the 20 that had their questions accepted by the community. Please email me within the next 5 days at: karim@wikia-inc.com to claim your prize, and include your name, address, and phone number. You'll need to get back to me within 5 days, or I will have to offer up the cards to the next winner on the list. Thanks, and Congrats! -- Karim
(talk) 22:55, 16 June 2009 (UTC)
Compliment
Edit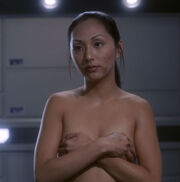 Hey I love the picture of hoshi (sic) nude. thanks!--(unsigned)
No, thank you, anonymous IP editor. If I were to die tomorrow, this is the one thing I'd like to be remembered for. Bringing "joy" to people such as yourselves (sic).--Tim Thomason 02:31, 20 June 2009 (UTC)
Well it's nice to know that someone besides me appreciates the beauty of an asian woman without any clothes on.
So about three years ago you requested some images/recreations of the Starfleet insignia seen in "Parallels" and "Future Imperfect". Here they are, right on time.