Hello, welcome to my discussion page. Please use this page to add comments about my contributions to Memory Alpha.
Ankaŭ, se vi estas esperantisto, bonvolu lasi mesaĝon ĉi-tie por ke mi invitu vin al la venonta esperanto-versio de Memory Alpha! Dankon.
Recommended LayoutYou are currently viewing Memory Alpha without recommended changes to the standard layout. To apply these changes, please click on the following Apply link - to just get rid of this notice, click on Reject. In either case, click Save page on the page that follows.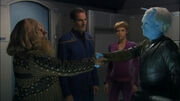 Welcome to Memory Alpha, Tgkshorney!
I've noticed that you've already made some contributions to our database – thank you! We all hope that you'll enjoy our activities here and decide to join our
community
.
If you'd like to learn more about working with the nuts and bolts of Memory Alpha, I have a few links that you might want to check out:
One other suggestion: if you're going to make comments on talk pages or make other sorts of comments, please be sure to sign them with four tildes (~~~~) to paste in your user name and the date/time of the comment.
If you have any questions, please feel free to post them in our Ten Forward community page. Thanks, and once again, welcome to Memory Alpha! -- Captain Mike K. Barteltalk 13:45, 5 Sep 2005 (UTC)
Comic images
Edit
I'm not sure theres room (or need!) in Star Trek: Starfleet Academy (comic) extraneous pictures -- for example, there's no need for a picture of Omega Squad -- there's another picture of them right above that, the cover of issue #1.
Please try and only upload images of comic book covers, and then, if there's room or cause maybe we could find pictures of relevant topics.
Please remember the rules this site is based on state that Memory Alpha is not an image gallery -- Captain Mike K. Barteltalk 13:45, 5 Sep 2005 (UTC)