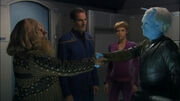 Welcome to Memory Alpha, Spock78! I've noticed that you've already made some contributions to our database – thanks for your edit to the "Forum:Star Trek Deaths" page! We all hope that you'll enjoy our activities here and decide to join our community.
If you'd like to learn more about working with the nuts and bolts of Memory Alpha, I have a few links that you might want to check out:
One other suggestion: if you're going to make comments on talk pages or make other sorts of comments, please be sure to sign them with four tildes (~~~~) to paste in your user name and the date/time of the comment.
If you have any questions, please feel free to post them in our Ten Forward community page. Thanks, and once again, welcome to Memory Alpha! -- Renegade54 (Talk) 21:13, 2012 June 15
UPDATES
Please sign your talk page comments using ~~~~ or click the signature button above. This helps us keep track of who said what. - Archduk3 21:32, June 15, 2012 (UTC)
Images
BTW, I have already read the image rules and while I know we don't want to overcrowd, I went to TrekCore.com and found various Behind-the-Scenes footage and high-definition screencaps from the movies and shows. They are added and should be sufficient.--Spock78 08:18, June 26, 2012 (UTC)
I added what options they gave me. There wasn't any licensing and more often than not, I said where I got the picture. I tried putting them in several categories but since I had to do that separate from the actual upload page I included the category in the description so either I or someone else here could revert it accordingly.
If you want to kill all that progress I did last night, go ahead I guess ...--Spock78 (talk) 15:21, June 26, 2012 (UTC)
All images (including the screencaps for the film such as the unnamed punk, unnamed police officer in STIV, Uhura holding a phaser in STIII and Kirk and Spock in STXI) are from TrekCore.com as stated in mostly each description.
The rest are strictly all behind the scenes and the descriptions again mention where it's from. I tried scrolling down the license menu and there wasn't any other options. I typed in Memory Alpha Images, just not with the X.--Spock78 (talk) 16:06, June 26, 2012 (UTC)
I'll see what I can do. What's my timetable? I've got a serious amount of collegework to get accomplished this week (exam's this Thursday) so how long do I have before the deletion period?? Can anyone else help label it accordingly?
They're all simple Behind-the-Scenes images save for the ones mentioned and all came from TrekCore.com so I believe public domain might be appropriate unless for any other given reason, extra licensing issues came up. So what I'm basically saying is that I want to do something about it but can't right now because I now have to get ready for class. Again, can someone else like your or the other supervisors help out or must I take full responsibility of everything?
Tim Russ
I moved your Tim Russ question to Talk:Tim Russ, since your question concerned that article. Ten Forward should be used for questions concerning more than one article, or the wiki itself. 31dot (talk) 08:57, July 30, 2012 (UTC)
Photos from IMDb
Hey. You've uploaded a few images from the Internet Movie Database. While I personally really appreciate these uploads and illustrations of the articles I think the IMDb Conditions of Use do not allow the use of images from IMDb. [1] Tom (talk) 11:50, December 2, 2012 (UTC)
Links
Hey. I can understand your comment on the "Unnamed Rutians" history. But the links you've added are already on the page. And we don't link them every time we have them on a page. Tom (talk) 22:05, February 3, 2013 (UTC)