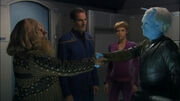 Welcome to Memory Alpha, SCC-47106!
I've noticed that you've already made some contributions to our database – thank you! We all hope that you'll enjoy our activities here and decide to join our
community
.
If you'd like to learn more about working with the nuts and bolts of Memory Alpha, I have a few links that you might want to check out:
One other suggestion: if you're going to make comments on talk pages or make other sorts of comments, please be sure to sign them with four tildes (~~~~) to paste in your user name and the date/time of the comment.
If you have any questions, please feel free to post them in our Ten Forward community page. Thanks, and once again, welcome to Memory Alpha! --Delta2373 06:31, 10 March 2009 (UTC)
Episode links
Edit
Please use templates when linking to episodes or films. See Help:Linking to episodes and films. Thanks, Cleanse 05:28, 16 March 2009 (UTC)
Preview and capitalization
Edit
A couple of things. Please make use of the "preview" button when making edits rather than making a ton of edits on the same article in a short period of time.
Also, note that we capitalize the word Human here on Memory Alpha, since it is a species just like Romulan, Ferengi, and so forth.
Lastly, we refer to the movies as "Star Trek films". Not "Star Trek motion pictures". -- sulfur 19:06, 24 March 2009 (UTC)
Non-canon information in articles
Edit
Please note that Memory Alpha articles only include canon information. If you are interested in contributing information from non-canon licensed Star Trek works (such as from games, novels and comics) you may want to check out Memory Beta. Thanks! 31dot (talk) 12:04, July 2, 2012 (UTC)
Dramen/Dramian system?
Edit
You moved the "Dramian system" page to "Dramen system‎" today with no comment as to why the move was done. Can you please note why this change was made? -- sulfur (talk) 11:30, September 21, 2014 (UTC)
Punctuation
Edit
Please read the MOS, particularly the parts dealing with punctuation and episode titles. Every punctuation change you made here was wrong. - Archduk3 05:59, October 22, 2014 (UTC)
Punctuation - again
Edit
Please take a look at MA:STYLE, as you were told before. I just had to fix all of the quotes you modified on "A Man Alone". Please stop formatting quotes like this, it is not the proper way. --Delta2373 (talk) 02:42, February 29, 2016 (UTC)