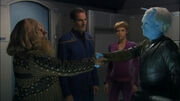 Welcome to Memory Alpha, Mongoosedog! I've noticed that you've already made some contributions to our database – thanks for your edit to the Star Trek (film) page! We all hope that you'll enjoy our activities here and decide to join our community.
If you'd like to learn more about working with the nuts and bolts of Memory Alpha, I have a few links that you might want to check out:
One other suggestion: if you're going to make comments on talk pages or make other sorts of comments, please be sure to sign them with four tildes (~~~~) to paste in your user name and the date/time of the comment.
If you have any questions, please feel free to post them in our Ten Forward community page. Thanks, and once again, welcome to Memory Alpha! -- Cleanse (Talk) 10:47, 9 March 2010
The above named user is the most currently available administrator to contribute to Memory Alpha; their signature was automatically added by User:Wikia. If you have any immediate questions or concerns, you may contact that user through their talk page.
Quotes/Edits
Edit
Thanks for thinning out some of the quotes on the movies's page. Just a couple of tips- when removing a lot of quotes, (or any significant passage) it's a good idea to post a copy of what was removed on the article's talk page so there is a record of it, in case of disputes; this also lets others in the future know what was removed in case it is readded.
Also, you may want to use the Preview button to view your edits before you save them to make all your changes in a minimum of edits, which keeps the load on the database down and the Recent Changes page easier to read. Thanks for your help. :) --31dot 11:16, March 9, 2010 (UTC)