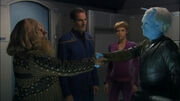 Welcome to Memory Alpha, Leonard James Akaar!
I've noticed that you've already made some contributions to our database – thank you! We all hope that you'll enjoy our activities here and decide to join our
community
.
If you'd like to learn more about working with the nuts and bolts of Memory Alpha, I have a few links that you might want to check out:
One other suggestion: if you're going to make comments on talk pages or make other sorts of comments, please be sure to sign them with four tildes (~~~~) to paste in your user name and the date/time of the comment.
If you have any questions, please feel free to post them in our Ten Forward community page. Thanks, and once again, welcome to Memory Alpha!--Alan 23:19, 4 May 2009 (UTC)
Multiple Edits
Edit
Please make use of the Preview button when making edits. This allows you to see what your edit looks like before you save it, which reduces the load on the database and makes the Recent Changes page easier to read. Thanks.--31dot 03:08, January 26, 2010 (UTC)
I'm posting a copy of the following on the assumption you are User talk:79.182.37.202 who posted on my talk page, if you are not, I will remove it. Discussions should be kept in one location.
I would suggest that you find a way to become comfortable with it, as it exists precisely to see what something looks like in case you change your mind. I notice that it took you four edits just to write your message, Preview would have helped you here. I'm not sure how it is any more difficult to read the article in Preview than after you save your edit- they look the same. No one can make you do it, but if you do not others will comment on it as well.--31dot 10:46, January 26, 2010 (UTC)