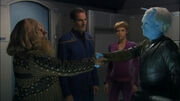 Welcome to Memory Alpha, FeO2E! I've noticed that you've already made some contributions to our database – thanks for your edit to the Charlie X (episode) page! We all hope that you'll enjoy our activities here and decide to join our community.
If you'd like to learn more about working with the nuts and bolts of Memory Alpha, I have a few links that you might want to check out:
One other suggestion: if you're going to make comments on talk pages or make other sorts of comments, please be sure to sign them with four tildes (~~~~) to paste in your user name and the date/time of the comment.
If you have any questions, please feel free to post them in our Ten Forward community page. Thanks, and once again, welcome to Memory Alpha! -- Gvsualan (Talk) 04:21, January 13, 2010
The above named user is the most currently available administrator to contribute to Memory Alpha; their signature was automatically added by User:Wikia. If you have any immediate questions or concerns, you may contact that user through their talk page.
MA is an encyclopedia, not a nit-pickers guide. Please review MA:NIT before considering any further contributions at that level. --Alan 04:34, January 13, 2010 (UTC)
I watched Nemesis for the first time since it first came out. I was surprised at how good it was. I don't recall liking it originally. Perhaps I had been on a Star Trek hiatus at the time. But I've recently started watching all the shows I can get a hold of. And I absolutely loved Nemesis this time around. It was action packed with a good story line. I didn't like that Data died, but his actions were perfect. It was simply fantastic.
I'm sorry for posting this on other places. I'm a bit confused about the talk feature here.