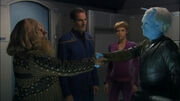 Welcome to Memory Alpha, Delta2373!
I've noticed that you've already made some contributions to our database – thank you! We all hope that you'll enjoy our activities here and decide to join our
community
.
If you'd like to learn more about working with the nuts and bolts of Memory Alpha, I have a few links that you might want to check out:
One other suggestion: if you're going to make comments on talk pages or make other sorts of comments, please be sure to sign them with four tildes (~~~~) to paste in your user name and the date/time of the comment.
If you have any questions, please feel free to post them in our Ten Forward community page. Thanks, and once again, welcome to Memory Alpha!--Alan 05:22, 7 May 2007 (UTC)
For older discussions, please see 2008-2013.
---
Homefront Image
Edit
Just to say good work with the blood taking image. Defiantly better than the previous and a better caption as well. --BorgKnight (talk) 20:03, May 1, 2014 (UTC)
Star Trek maps project
Edit
Hi Delta2373. I'm Brandon, Senior Community Manager at Wikia. We're working on a new Star Trek project as part of the Wikia Fan Studio. To give a bit of context, Fan Studio is a program where fans on Wikia can be connected with brands from the entertainment and video gaming industries. Fans get to interact with brands and share opinions that could impact final products and releases, or whatever it may be that a partner brand is working on. This project doesn't have a partner brand involved, but it will let you be part of Fan Studio and other future projects.
This Star Trek project is based around Wikia Maps, and participants will be mapping different parts of the Star Trek universe. Participants will get to help decide what we should map as well. It could be the layout of the Enterprise, or Voyager's journey through the Delta Quadrant, or even more light-hearted subjects like Captain Kirk's romantic liaisons throughout the galaxy. Whatever the participants end up deciding. The maps that the project participants create will live on Trek Initiative, plus any other community that wants to can embed them.
As an active Memory Alpha contributor, we think you'd be great for this project. Would you like to join? Let me know on my talk page. Thanks! - Brandon Rhea
(talk) 07:18, November 16, 2014 (UTC)
Talk pages
Edit
Please make sure that you don't delete comments from others when posting on talk pages. Thanks. -- sulfur (talk) 19:02, April 23, 2016 (UTC)
Sorry about that Sulfur, I left the page briefly while I was editing it to get some information and then returned and added my two cents without realizing I took out your comment. Totally unintentional. I apologize. --Delta2373 (talk) 19:05, April 23, 2016 (UTC)