Fine motor skills
Edit
Actually, this is the term, meaning the ability to make small precise movements, as opposed to gross motor skills, which are bigger movements. [1]. He wasn't saying they were fine as opposed to lousy. :) The term "motor skills" appears elsewhere separately, but here it refers specifically to this sub-type of motor skills. --LauraCC (talk) 16:28, August 25, 2016 (UTC)
It's all right. Easily changed back. Possibly the two do belong on the same page, with the latter as a redirect. --LauraCC (talk) 18:20, August 25, 2016 (UTC)
Re - "Emissary" reference
Edit
Thank you. I wondered why it showed up on another episode entirely. --LauraCC (talk) 16:41, September 19, 2016 (UTC)
So can we add that to Rom's jobs in his character sidebar? Or was this role only suggested but never seen per se? --LauraCC (talk) 16:58, September 21, 2016 (UTC)
"Earth" link
Edit
To distinguish between Earth's 18th century and another planet's. He said "your" as opposed to 18th century Vulcan or any other planet, for that matter. --LauraCC (talk) 18:18, September 21, 2016 (UTC)
Ouch. Nice parry. ;) --LauraCC (talk) 18:28, September 21, 2016 (UTC)
Not sure if you'd seen it yet, but regarding this deletion discussion, your Devil in the Dark script might be helpful in confirming the right spelling. -- Capricorn (talk) 19:38, September 23, 2016 (UTC)
Going to need an answer to this. - Archduk3 16:29, September 30, 2016 (UTC)
Denobulan article
Edit
I'm not sure of the meaning of your reversion summary - the meaning of the sentence wasn't changed at all - but I'm simply changing a stylistically poor passive construction to something that isn't half-gibberish to readers, some of whom may not have English as a first language. If you need more detail on what "passive" means in this context, I'm happy to explain further. NokiaTouchscreen (talk) 02:40, October 10, 2016 (UTC)
"Where No Man" question
Edit
Is the term "reader screen (links)" from the script? --LauraCC (talk) 17:41, October 11, 2016 (UTC)
Thanks. Which draft is it? --LauraCC (talk) 17:52, October 11, 2016 (UTC)
Yeah, sorry. I don't know where my mind is. --LauraCC (talk) 17:55, October 11, 2016 (UTC)
Just thought you'd like to know - from what I could tell, only the term "library-computer screen" is used. --LauraCC (talk) 18:06, October 11, 2016 (UTC)
Candelabra
Edit
Sorry, should have clarified that it's seen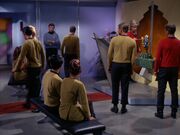 here (top right). Does the script name it as such? --
LauraCC
(
talk
) 20:41, October 13, 2016 (UTC)
I guess naming it what I did is a common sense call, then. --LauraCC (talk) 20:47, October 13, 2016 (UTC)
Oh, and caught another reference for you- master. Kirk says, "Since the days of the first wooden vessels, all shipmasters have had one happy privilege. That of uniting two people in the bonds of matrimony." --LauraCC (talk) 20:53, October 13, 2016 (UTC)
Made the article. Though a zoomed in pic of her lighting it might be better? --LauraCC (talk) 21:17, October 13, 2016 (UTC)
Mark Lenard in "Journey to Babel"
Edit
Undo of my edit, that Mark Lenard played a Romulan commander before the role of Sarek
Undo comment: "-a badly fm note the type of which we don't list on episode pages, as it's much more suitable for the page about the actor"
Hey come on...this is very interesting info! And the right place is in the "Cast" section of this episode's article. There is much more trivial stuff in other "Cast" sections for other episodes and a lot of other info which is far less important – e.g., I do not really care if a costume is re-used from another episode, but if a main actor played another (major) role in a previous season episode, it is important!)
When I, as a fan, read the background info for this episode, I would be thankful if someone gave a hint that Sarek played the Romulan Commander in "Balance of Terror". If I want more info, I go to the page about the actor.
That's why I made this edit. (77.119.128.60 21:37, October 14, 2016 (UTC))