Recommended LayoutYou are currently viewing Memory Alpha without recommended changes to the standard layout. To apply these changes, please click on the following Apply link - to just get rid of this notice, click on Reject. In either case, click Save page on the page that follows.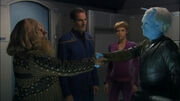 Welcome to Memory Alpha, Defchris!
I've noticed that you've already made some contributions to our database – thank you! We all hope that you'll enjoy our activities here and decide to join our
community
.
If you'd like to learn more about working with the nuts and bolts of Memory Alpha, I have a few links that you might want to check out:
One other suggestion: if you're going to make comments on talk pages or make other sorts of comments, please be sure to sign them with four tildes (~~~~) to paste in your user name and the date/time of the comment.
If you have any questions, please feel free to post them in our Ten Forward community page. Thanks, and once again, welcome to Memory Alpha!
Jaz talk 19:27, 2 June 2006 (UTC)
Um... just thought I'd let you know, the page you claimed was "erased" actually never existed until you created it about nine minutes ago. Therefore, nobody "erased" or deleted anything because that page was never here. If it had been created and subsequently deleted, then it would show up in our history to give admins the option to view or restore deleted edits. Since it's not in our history, that means the page never existed. Sooo... when did this "erasure" you speak of take place? ;) --From Andoria with Love 20:33, 2 June 2006 (UTC)

In reply to your reply (:-P), it's very possible, but I would think there would be some record of it. In any case, welcome to Memory Alpha. :) --From Andoria with Love 21:07, 2 June 2006 (UTC)
Hello,
I wanted to drop you a note to inform you that I added some comments to yours about "warp factors" on the "Constitution class" talk page.
Sorry, but I do not know how to code so I can't provide any hyperlinks here. Maybe someday... Ol' Horta Face 05:11, 17 February 2007 (UTC)