Recommended LayoutYou are currently viewing Memory Alpha without recommended changes to the standard layout. To apply these changes, please click on the following Apply link - to just get rid of this notice, click on Reject. In either case, click Save page on the page that follows.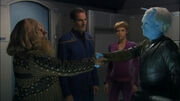 Welcome to Memory Alpha, C-IMZADI-4!
I've noticed that you've already made some contributions to our database – thank you! We all hope that you'll enjoy our activities here and decide to join our
community
.
If you'd like to learn more about working with the nuts and bolts of Memory Alpha, I have a few links that you might want to check out:
One other suggestion: if you're going to make comments on talk pages or make other sorts of comments, please be sure to sign them with four tildes (~~~~) to paste in your user name and the date/time of the comment.
If you have any questions, please feel free to post them in our Ten Forward community page. Thanks, and once again, welcome to Memory Alpha!--31dot 10:49, 2 July 2008 (UTC)
same question - different place
Edit
Please do not post the same question in multiple places. — Morder 18:52, 12 May 2009 (UTC)
=> sorry I didn't watch me !!
Please do not change the date/time attached to your comments. The reason the date is there is so others know when the comment was made.--31dot 12:00, 30 August 2009 (UTC)
sure, but I wait one answer for longtime !!! C-IMZADI-4 12:08, 30 August 2009 (UTC)
Changing the date will not affect how and when people answer you. People answer if they want to, or if they know the answer.--31dot 12:14, 30 August 2009 (UTC)
I thought my question was not read ! C-IMZADI-4 12:34, 30 August 2009 (UTC)
When uploading images to MA/en, even if they're only for discussions, can you please at least note their source (book, episode, etc)? Thanks. -- sulfur 20:39, October 28, 2010 (UTC)
Just because the computer was about to say something related to Kodos and SD 2794.7, it doesn't mean that it must have happened during his lifetime. For all we know, it could've been the date of a recent discovery concerning the events that occurred back then. – 1312.4 07:49, November 27, 2010 (UTC)