This talk page is for all my pages.
Click here to start a new topic!
---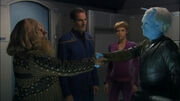 Welcome to Memory Alpha, Bobalobabingbong! I've noticed that you've already made some contributions to our database – thanks for your edit to the User:Bobalobabingbong/Sig page! We all hope that you'll enjoy our activities here and decide to join our community.
If you'd like to learn more about working with the nuts and bolts of Memory Alpha, I have a few links that you might want to check out:
One other suggestion: if you're going to make comments on talk pages or make other sorts of comments, please be sure to sign them with four tildes (~~~~) to paste in your user name and the date/time of the comment.
If you have any questions, please feel free to post them in our Ten Forward community page. Thanks, and once again, welcome to Memory Alpha! -- 31dot (Talk) 23:18, March 31, 2009
~Thanks! ~bobalobabingbong (

T

•

C

) - 23:43, 31 March 2009 (UTC)